Cyberattacks Increased By 100% In 2017; Protect Your Identity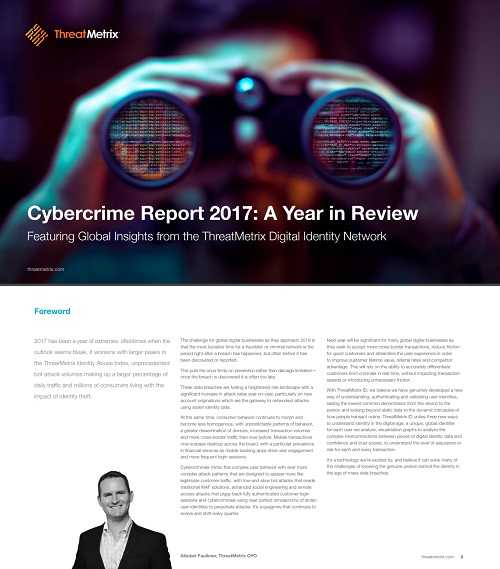 A recent report released by ThreatMetrix, Cybercrime Report 2017: A Year in Review, provides an eye-popping account of cybercrime and fraud worldwide. The fear of having one's credit or banking cards physically stolen is rapidly shifting to having that information stolen online and for good reason. The report finds that from 2015 to 2017, cyberattacks increased by 100%. The good news? Dedication by organizations using cutting-edge and innovative cybersecurity strategies stopped 700M attacks from happening globally. Whew!
Putting consumers first is a vital approach to cybercrime. Vanita Pandey, a VP at ThreatMetrix says "As attacks intensify, so does the need for investment in advanced technologies to protect consumers, including individuals with breached identity and financial credentials…"
In the US alone last year, the Equifax breach exposed over 145 million Americans' financial data to hackers. The ThreatMetrix report saw spikes directly after that incident, saying that the time between the hack and the time it is found and/or reported is the most vulnerable for victims. New account creation at that point shows the highest level of criminal activity, with one out of nine accounts in 2017 opened fraudulently.
The report also highlights:
Mobile transactions, particularly those using smartphones, now account for 50% of all purchases.
High-profile attacks continue to increase fraudulent activity
Since 2015, financial services attacks have increased by 105%.
Logins for eCommerce sites show a 170% attack growth since 2015.
As the use of bots increases so do attacks, hitting record levels in the last quarter of 2017.
After any data breach, whether or not you have been notified that you may be a victim, there are ways to lower your risk or responsibility.
If your social security number was stolen:
Be sure to check your credit reports annually. If any information is not correct, work with the credit bureaus to fix it.
Freeze your credit if it's possible. If not, take advantage of free credit monitoring services you are offered.
File income tax returns as soon as possible. This will prevent a thief from filing on your behalf and getting your refund.
Pay attention to prepaid credit offers you receive in the mail. If they begin to show up more frequently, check your credit report and make sure there are no fraudulent accounts opened in your name.
If your payment card details were taken:
Closely monitor your charges and report anything suspicious to your financial institution.
Choose the "credit" option at payment terminals when given the choice between that and debit. This is always good practice.
If your email address is stolen:
Be on the lookout for additional targeted and detailed phishing messages. Don't click on links or attachments if you're not expecting them and are not 100% certain they are safe.
You cannot be in complete control of your information once you provide it to someone else. But you can do your best to protect yourself from fraud and identity theft on a continual basis by doing the above and by continuing to learn about the latest cybersecurity trends and threats.
© Copyright 2018 Stickley on Security Inc.